Our sleddogs
We don't have too many dogs and maintain a personal relationship with every one of them. Our husky team comprises of both Siberian and Alaskan huskies, some of which have blue eyes, some brown and a few strange orange eyes, don't quite know how that happened but anyway.......they are all lovely, love to run and adore your attention.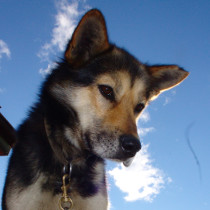 Chewbacca "Chewy"
Named after the famed starwars character, Chewy is a monstrously strong Husky, have climbed over dog runs nearly 2.5m in height, run in the famous and notoriously tough Femundlöpet race in Norway. Chewy is a Sled dog with serious attitude towards running, He pulls so hard in harness that he has broken many ganglines and steel chain clips in his enthusiasm to run. His favourite thing is to roll in the snow to cool down every time we stop for a little break. However for all his strength, he is a gentle giant at heart and loves your attention and cuddles whenever he gets a chance.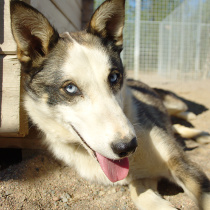 Chi Chi
Chi Chi is one of our many youngsters and this will be her first full season in harness, training has been going well with her and she has crazy energy just before the start of any of our runs. A bit of a mad hatter in the kennel, she also loves all the attention she can get. She can run in any position and lately has been showing some promise as a lead dog. The future looks bright for this little firestarter, once we can tame her boundless energy and drive, she has diamond blue eyes and you are just going to want to take her home.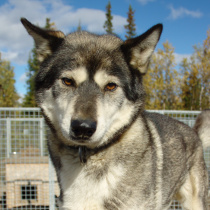 Kuba
Kubes was part of my 6 dog UK racing team and always runs on wheel, together with the rest of the 6 we fought our place often into the top three in some of Britain's biggest races. He likes to bark a lot but when he is running he is a driver and a powermonger, he will pull till he can't pull anymore, then pull some more for good measure. A lovely Siberian boy coming from some of the fastest "Zero" racing lines in the world, a terrific asset for any team.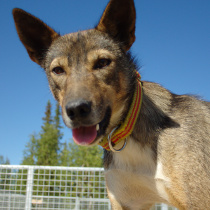 Bee
Little Bee, possibly the smallest Sled Dog in the world, a very shy natured little girl but very loving when you get to know her. However once she has her harness on it is like Dr Jekyll and Mr Hide, she tranforms from this shy reserved little dog into an Ignition of wild energy, ready to pull the biggest mountain like a titan with four legs. What she lacks in size, she makes up for tenfold in attitude. She is fantastic at keeping the team in motivated spirits when the weather and conditions are tough.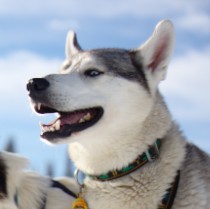 Taxi "Cabzy"
Son of my first dearly departed racing sled dog Xia, a beautiful loveable K9 with calmness and attitude tightly wrapped up into the same powerful package. He has matured wonderfully and now at the ripe young age of 5 is one of my main lead dogs. Nothing phases Cabsy and he loves to run and play fighting with you is his thing. Sporting the unique Tanzanite blue shing eyes with lovely shades of thick grey, white and black fur Taxi Cabz is an outstanding beast. Calm by nature but a powerhouse when in harness doing what he loves most leading the sleddog teams down the trail.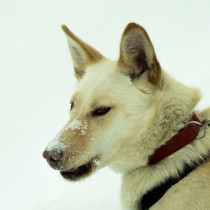 Una
One of the kennels first Alaskan Huskies. Una packs a punch and a half, a small and compact muscle bound girl she really has a big battery and an endless stream of energy. At just 2 years old, she already shows great promise as a lead dog. If you're around Una though you have to watch out, as she will jump straight into your arms for a cuddle, the girl has springs attached to her legs I am sure. One of the quirkiest and fastest dogs in the kennel and she is really beginning to command a large team of dogs well. I named her Una as it sounds like spanish for one / 1st but it can also be KirUNA boom boom !! :) !!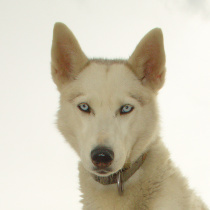 Brazen
"Crazy Brazy" as she is commonly referred to. A Siberian Husky dog with a manic drive to run and cuddles to melt your heart, back in the UK she brought many medals to the table. This year 2017 she will be ten years old and although she is telling me she does not want to go dog sledding everyday, the days I do take her, she is a sure thing and a great leader. Her most important job in the next couple of years will be training our young guns how to lead and respond to commands. Training lead dogs is going to be a big part of the summer 2017.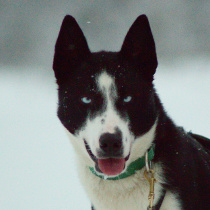 Bud "Izm"
Bud is one of the newer recruits, Snowdog is also home to his brother Zen Stormtrooper and his sister Mary Jane. Coming from strong genetics from both Alaska and Sweden, he is an awesome guy. Steely blue eyes and a medium slender muscle packed physique he might be an entry for next years Mr Dogiverse.....J#king! He's a little wacked out, as is his brother and the sister is one of the noisest dogs in the kennel, but he gets the job done in style and never seems fatigued. Certainly a candidate for the racing team.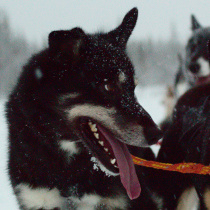 Cheeco
A feisty little character is our Cheeco, the smallest boy from the litter but a lovely little guys and full of nonsense. Like them all, He is a husky who loves to run, but loves to play every time we make a stop to take in the amazing Arctic scenery or snap some winter pics. Running in lead on his first season but still he is work in progress but with a little summer work he could make another good lead dog for the Snowdog Kennel. Go on Cheeco, we love ya. :)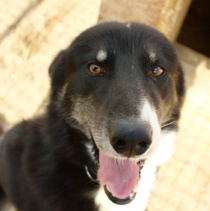 Igor
Father to Cheeco, Max, Maisy Mops, Charlie "Hong Kong Fuey" Chopsticks, Dr Speckle and Pyrat. A super loving romancer and a big strapping lad. At four years old he is just all business and get's the job done every time. He will grab every opportunity for a cuddle and cannot keep his "hands" off you male or female......bit of a worry really, resembles a border collie as do some of his kids but rumor has it he is an Alaskan Husky.....at least that is what they told me.
More dogs will be added to the page soon...